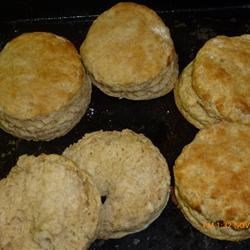 Ingredients:
2 cup whole wheat flour (we like 100% whole white wheat flour best)
4 teaspoons baking powder
1 tablespoon organic coconut palm sugar
3/4 teaspoon salt
1/4 cup vegan butter (We like Soy Free Earth Balance)
1 cup minus 1 Tbsp unsweetened almond milk
1 Tbsp apple cider vinegar
Directions:
Preheat oven to 450 degrees F (230 degrees C).
In a liquid 1 cup measuring cup add vinegar, then add the milk and stir. Let sit for 5 minutes.
Combine all-purpose flour, whole wheat flour, baking powder, sugar, and salt in bowl.
Cut in butter with a knife or pastry blender until mixture resembles coarse crumbs; stir in milk mixture until just moistened.
Turn dough out on a floured surface; knead gently 8 to 10 times. Roll to about 3/4-inch thickness; cut with a 2 1/2-inch biscuit cutter or drinking glass.
Place biscuits on an ungreased baking sheet. Bake in preheated oven until biscuits are lightly browned, 10 to 12 minutes.
Makes 6-8
Original recipe from allrecipes and then heavily adapted. :)